All kits come with pre-cut inner and outer fabric and fusible interface.  You start with step one immediately.  They have been matched with upholstery-weight or quilting cotton fabric for structure and stability and will fit nicely into my purse frames designed with the Perfect Fit6 (TM) u-channel.  You also get:
templates to make 6 different size clutches:  10×3, (2) 8×3, 6×3, 4.5×3. 3×1.5
frame and/or chain with/without ribbon per the photo
access to password-protected post with the tutorials where you receive free updates and templates as long as you have your password
Please note on the Gutermann glue:
**Due to Customs Regulations, no glue (adhesives) can be shipped outside of the USA. You will need to find fabric/metal glue at your local fabric or arts/crafts shop.**
If you do not have a US-based shipping address, please order International kits – "No glue" only according to your geography.  I combine ship.  Any excess over $1 will be refunded to you.
I was featured on: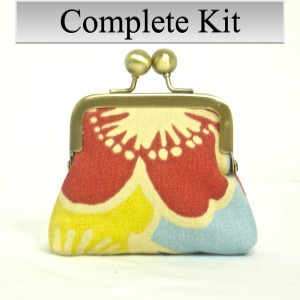 Mini Floral 3-inch coin purse Clutch Kit:
USA address with glue [MFK]:  for $30.00 and $5.80 shipping (TOTAL cost $35.80)
USA address NO glue [MFI]:  for $21.00 and $5.80 shipping (TOTAL cost $26.80)
International NO glue – Canada & Mexico [MFI1]:  for $21.00 and $19.95 shipping (TOTAL cost $40.95)
International NO glue – everywhere else [MFI2]:  for $21.00 and $23.95 shipping (TOTAL cost $44.95)
Hydrangea 6-inch Clutch Kit:
USA address with glue [HK]:  for $39.00 and $5.80 shipping (TOTAL cost $44.80)
USA address NO glue [H]:  for $30.00 and $5.80 shipping (TOTAL cost $35.80)
International NO glue – Canada & Mexico [HI1]:  for $30.00 and $19.95 shipping (TOTAL cost $49.95)
International NO glue – everywhere else [HI2]:  for $30.00 and $23.95 shipping (TOTAL cost $53.95)
Le Jardin 10-inch Clutch Kit:
USA address with glue [LJK]:  for $49.00 and $5.80 shipping (TOTAL cost $54.80)
USA address NO glue [LJ]:  for $40.00 and $5.80 shipping (TOTAL cost $45.80
International NO glue – Canada & Mexico [LJI1]:  for $40.00 and $19.95 shipping (TOTAL cost $59.95)
International NO glue – everywhere else [LJI2]:  for $40.00 and $23.95 shipping (TOTAL cost $63.95)
Ferns 4.5-inch Clutch Kit:
USA address with glue [FeK]:  for $32.00 and $5.80 shipping (TOTAL cost $37.80)
USA address NO glue [Fe]:  for $23.00 and $5.80 shipping (TOTAL cost $28.80)
International NO glue – Canada & Mexico [FeI1]:  for $23.00 and $19.95 shipping (TOTAL cost $42.95)
International NO glue – everywhere else [FeI2]:  for $23.00 and $23.95 shipping (TOTAL cost $46.95)
Gerbara Daisy 8-inch Baguette Clutch(TM) Kit:
USA address with glue [GDK]:  for $44.00 and $5.80 shipping (TOTAL cost $49.80)
USA address NO glue [GD]:  for $35.00 and $5.80 shipping (TOTAL cost $40.80)
International NO glue – Canada & Mexico [GDI1]:  for $35.00 and $19.95 shipping (TOTAL cost $54.95)
International NO glue – everywhere else [GDI2]:  for $35.00 and $23.95 shipping (TOTAL cost $58.95)
Leaf 8-inch Clutch Kit:
USA address with glue [LBGK]:  for $43.00 and $5.80 shipping (TOTAL cost $48.80)
USA address NO glue [LBG]:  for $34.00 and $5.80 shipping (TOTAL cost $39.80)
International NO glue – Canada & Mexico [LBGI1]:  for $34.00 and $19.95 shipping (TOTAL cost $53.95)
International NO glue – everywhere else [LBGI2]:  for $34.00 and $23.95 shipping (TOTAL cost $57.95)
Weaving Leaves 6-inch Clutch Kit:
USA address with glue [WLK]:  for $39.00 and $5.80 shipping (TOTAL cost $44.80)
USA address NO glue [WL]:  for $30.00 and $5.80 shipping (TOTAL cost $35.80)
International NO glue – Canada & Mexico [WLI1]:  for $30.00 and $19.95 shipping (TOTAL cost $49.95)
International NO glue – everywhere else [WLI2]:  for $30.00 and $23.95 shipping (TOTAL cost $53.95)
EcoLeaves 8-inch Clutch Kit:
USA address with glue [ECK]:  for $43.00 and $5.80 shipping (TOTAL cost $48.80)
USA address NO glue [EC]:  for $34.00 and $5.80 shipping (TOTAL cost $39.80)
International NO glue – Canada & Mexico [ECI1]:  for $34.00 and $19.95 shipping (TOTAL cost $53.95)
International NO glue – everywhere else [ECI2]:  for $34.00 and $23.95 shipping (TOTAL cost $57.95)
Swirls 8-inch Clutch Kit:
USA address with glue [SWK]:  for $44.00 and $5.80 shipping (TOTAL cost $49.80)
USA address NO glue [SW]:  for $35.00 and $5.80 shipping (TOTAL cost $40.80)
International NO glue – Canada & Mexico [SWI1]:  for $35.00 and $19.95 shipping (TOTAL cost $54.95)
International NO glue – everywhere else [SWI2]:  for $35.00 and $23.95 shipping (TOTAL cost $58.95)
Gingko 8-inch Clutch Kit:
USA address with glue [GK]:  for $43.00 and $5.80 shipping (TOTAL cost $48.80)
USA address NO glue [G]:  for $34.00 and $5.80 shipping (TOTAL cost $39.80)
International NO glue – Canada & Mexico [GI1]:  for $34.00 and $19.95 shipping (TOTAL cost $53.95)
International NO glue – everywhere else [GI2]:  for $34.00 and $23.95 shipping (TOTAL cost $57.95)
Mints 3-inch coin purse Clutch Kit:
USA address with glue [MK]:  for $30.00 and $5.35 shipping (TOTAL cost $35.35)
USA address NO glue [M]:  for $21.00 and $5.35 shipping (TOTAL cost $26.35)
International NO glue – Canada & Mexico [MI1]:  for $21.00 and $12.95 shipping (TOTAL cost $33.95)
International NO glue – everywhere else [MI2]:  for $21.00 and $16.95 shipping (TOTAL cost $37.95)
Spring Blossoms 8-inch Clutch Kit:
USA address with glue [SBK]:  for $44.00 and $5.35 shipping (TOTAL cost $49.35)
USA address NO glue [SB]:  for $35.00 and $5.35 shipping (TOTAL cost $40.35)
International NO glue – Canada & Mexico [SBI1]:  for $35.00 and $12.95 shipping (TOTAL cost $47.95)
International NO glue – everywhere else [SBI2]:  for $35.00 and $16.95 shipping (TOTAL cost $51.95)
Spring Green 8-inch Clutch Kit:
USA address with glue [SPK]:  for $43.00 and $5.35 shipping (TOTAL cost $48.35)
USA address NO glue [SP]:  for $34.00 and $5.35 shipping (TOTAL cost $39.35)
International NO glue – Canada & Mexico [SPI1]:  for $34.00 and $12.95 shipping (TOTAL cost $46.95)
International NO glue – everywhere else [SPI2]:  for $34.00 and $16.95 shipping (TOTAL cost $50.95)
Large Bird of Spring 2 10-inch Clutch Kit:
USA address with glue [LBS2K]:  for $49.00 and $5.35 shipping (TOTAL cost $54.35)
USA address NO glue [LBS2]:  for $40.00 and $5.35 shipping (TOTAL cost $45.35)
International NO glue – Canada & Mexico [LBS2I1]:  for $40.00 and $12.95 shipping (TOTAL cost $52.95)
International NO glue – everywhere else [LBS2I2]:  for $40.00 and $16.95 shipping (TOTAL cost $56.95)
Small Bird of Spring 2 6-inch Clutch Kit:
USA address with glue [SBS2K]:  for $39.00 and $5.35 shipping (TOTAL cost $44.35)
USA address NO glue [SBS2]:  for $30.00 and $5.35 shipping (TOTAL cost $35.35)
International NO glue – Canada & Mexico [SBS2I1]:  for $30.00 and $12.95 shipping (TOTAL cost $42.95)
International NO glue – everywhere else [SBS2I2]:  for $30.00 and $16.95 shipping (TOTAL cost $46.95)
Green Mints 4.5-inch Clutch Kit:
USA address with glue [GMK]:  for $32.00 and $5.35 shipping (TOTAL cost $37.35)
USA address NO glue [GM]:  for $23.00 and $5.35 shipping (TOTAL cost $28.35)
International NO glue – Canada & Mexico [GMI1]:  for $23.00 and $12.95 shipping (TOTAL cost $35.95)
International NO glue – everywhere else [GMI2]:  for $23.00 and $16.95 shipping (TOTAL cost $39.95)
Blue Vine 4.5-inch Clutch Kit:
USA address with glue [BVK]:  for $32.00 and $5.35 shipping (TOTAL cost $37.35)
USA address NO glue [BV]:  for $23.00 and $5.35 shipping (TOTAL cost $28.35)
International NO glue – Canada & Mexico [BVI1]:  for $23.00 and $12.95 shipping (TOTAL cost $35.95)
International NO glue – everywhere else [BVI2]:  for $23.00 and $16.95 shipping (TOTAL cost $39.95)
Large Regatta 10-inch Clutch Kit:
USA address with glue [LRK]:  for $49.00 and $5.35 shipping (TOTAL cost $54.35)
USA address NO glue [LR]:  for $40.00 and $5.35 shipping (TOTAL cost $45.35)
International NO glue – Canada & Mexico [LRI1]:  for $40.00 and $12.95 shipping (TOTAL cost $52.95)
International NO glue – everywhere else [LRI2]:  for $40.00 and $16.95 shipping (TOTAL cost $56.95)
Small Regatta 6-inch Clutch Kit:
USA address with glue [SRK]:  for $39.00 and $5.35 shipping (TOTAL cost $44.35)
USA address NO glue [SR]:  for $30.00 and $5.35 shipping (TOTAL cost $35.35)
International NO glue – Canada & Mexico [SRI1]:  for $30.00 and $12.95 shipping (TOTAL cost $42.95)
International NO glue – everywhere else [SRI2]:  for $30.00 and $16.95 shipping (TOTAL cost $46.95)
Breakwater 8-inch Clutch Kit:
USA address with glue [BK]:  for $44.00 and $5.35 shipping (TOTAL cost $49.35)
USA address NO glue [B]:  for $35.00 and $5.35 shipping (TOTAL cost $40.35)
International NO glue – Canada & Mexico [BI1]:  for $35.00 and $12.95 shipping (TOTAL cost $47.95)
International NO glue – everywhere else [BI2]:  for $35.00 and $16.95 shipping (TOTAL cost $51.95)
DISCONTINUED – FABRIC NO LONGER AVAILABLE
Navy Twine 8-inch Clutch Kit:
USA address with glue [NTK]:  for $43.00 and $5.35 shipping (TOTAL cost $48.35)
DISCONTINUED
– FABRIC NO LONGER AVAILABLE
USA address NO glue [NT]:  for $34.00 and $5.35 shipping (TOTAL cost $39.35)
DISCONTINUED
– FABRIC NO LONGER AVAILABLE
International NO glue – Canada & Mexico [NTI1]:  for $34.00 and $12.95 shipping (TOTAL cost $46.95)
DISCONTINUED
– FABRIC NO LONGER AVAILABLE
International NO glue – everywhere else [NTI2]:  for $34.00 and $16.95 shipping (TOTAL cost $50.95)
DISCONTINUED
– FABRIC NO LONGER AVAILABLE
Lily Clutch 8-inch Kit:
USA address with glue [LK]:  for $36.00 and $5.35 shipping (TOTAL cost $41.35)
USA address NO glue [L]:  for $27.00 and $5.35 shipping (TOTAL cost $32.35)
International NO glue – Canada & Mexico [LI1]:  for $27.00 and $12.95 shipping (TOTAL cost $39.95)
International NO glue – everywhere else [LI2]:  for $27.00 and $16.95 shipping (TOTAL cost $43.95)
Resort 8-inch Kit:
USA address with glue [RK]:  for $36.00 and $5.35 shipping (TOTAL cost $41.35)
USA address NO glue [R]:  for $27.00 and $5.35 shipping (TOTAL cost $32.35)
International NO glue – Canada & Mexico [RI1]:  for $27.00 and $12.95 shipping (TOTAL cost $39.95)
International NO glue – everywhere else [RI2]:  for $27.00 and $16.95 shipping (TOTAL cost $43.95)
Anti-Princess 8-inch Clutch Kit:
USA address with glue [APK]:  for $36.00 and $5.35 shipping (TOTAL cost $41.35)
USA address NO glue [AP]:  for $27.00 and $5.35 shipping (TOTAL cost $32.35)
International NO glue – Canada & Mexico [API1]:  for $27.00 and $12.95 shipping (TOTAL cost $39.95)
International NO glue – everywhere else [API2]:  for $27.00 and $16.95 shipping (TOTAL cost $43.95)